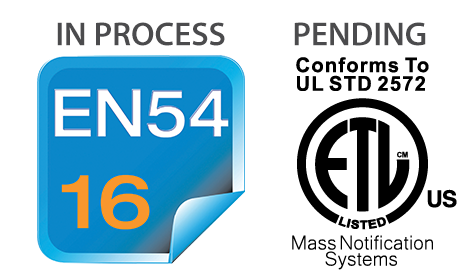 The DPM consists of three units: DPM-MAIN, DPM-EVA and DPM-KPD. The DPM-MAIN is a digital redundant loop paging microphone which provides 8 programmable buttons and a talk button. The DPM-KPD is a additional 8+1 microphone keypad used to expand the keys of DPM-MAIN, and the DPM-EVA is a EVAC unit with monitoring speaker and extra 5 programmable buttons.

Up to 8 paging consoles can be connected to BTQ-SL8, and 16 on BTQ-VM4/VM8/SG8; the wiring can be daisy-chain or in redundant loop. Each DPM-MAIN can attach one DPM-EVA, and up to 15 DPM-KPD can link to one DPM-MAIN by flat cable. The maximum communication cable length between the controller/secondary units and paging consoles is 250M (820 ft.) via STP CAT5/6 cable with shielded RJ45 connector. If the control signal of DPM is not strong enough, it can connect to the DLR01 digital loop repeater for extending the distance 250m longer. And if the power is not enough, connect a 24VDC local power on DLR01.

The microphone capsule of DPM-MAIN is fully monitored and has Auto Gain Control (AGC) function to increase/decrease the level of microphone automatically. The programmable buttons can set to act as single or group zone selection, event triggering, recording, message playing button etc.. All the settings are configured via web browser. The Talk button can be programmed for PTT (press-to-talk) or latching mode as well. The DPM is also an eco-friendly product with extremely low power consumption (< 1W) during standby mode.