Square Ceiling Loudspeakers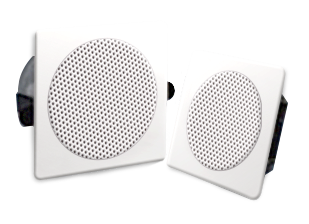 The SCS Series are attractive square ceiling-mounted loudspeakers in a metal version.
These products fit visually very well in our existing product lines. Quick-released, spring loaded bracket allow a safe and even fit of these built-in loudspeakers.
The high-quality loudspeaker broadband chassis and the 100 V transformer is a good alternative in case speaker form must be unique with other installed equipment.
FT models are delivered with a firedome.