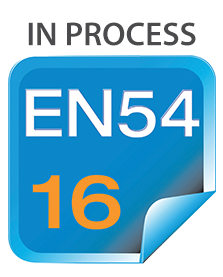 DPM-T5 - 5" TouchPanel Paging Mic Console
DPM-T5F - 5" TouchPanel Paging Mic Console w/EVAC Button
The DPM-T5/DPM-T5F 5" touchpanel paging mic console provides call-paging, message broadcasting, event triggering, recording, message routing, message play, level control etc.. Up to 16 paging consoles can be connected to BTQ-SL8, and 32 on BTQ-VM4/SG8/SL8; the wiring can be daisy-chain or in redundant loop. The maximum communication cable length between the controller/secondary units and paging consoles is 250M (820 ft.) via STP CAT5/6 cable with metal shielded RJ45 connector. The distance of cable length will directly affect the quantity and power requirement of DPM-T5/DPM-T5F unit.
The DPM-T5 is equipped with a 3.5mm phone jack mic input and a speaker output for the connection of external headset. Both DPM-T5 and DPM-T5F have a mini-USB port for PC/Laptop connection, making the far-end device using Skype, QQ, WhatsApp etc. be paged to BOUTIQUE system. In addition, the DPM-T5F has an evacuation button. The backlit full colour touch screen panel is designed for userfriendly operation and offers multiple pages for the selection of a zone/a group of zones.